Road Restraint Systems - Installation, Repair and Maintenance of Barriers, Parapets and Guardrails General Fencing - Mesh, Palisade and client specific installations
Safety Barriers
NHSS and EN1317 compliant systems for highway use. Traditional and client specific systems for off-highway, car parks etc.
Guardrail
Proprietary and client specific pedestrian railing systems to BS7818. Finished in galvanised, coated or painted.
Welcome!
Offering EN1317 design assistance as part of our installation package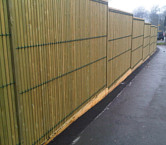 Established in 1987 Protek Fencing Limited has become one of the best recognised names in the highway fencing industry specialising in most types of safety fencing systems, bridge parapets, off highway and car park barriers, pedestrian guardrail, perimeter and security fencing.
The Company has a proven track record for the completion of all sizes of contracts, and providing a dedicated maintenance service.
Quality accreditation was gained in 1988 and is currently operated to ISO 9001:2008 for Sector Schemes 2A, 2B & 5B.
We maintain our accreditation with leading organisations such as Construction Line and CHAS.
Read More
See some of our completed projects here…
Alternative RRS interfaces...

Fencing screening the old railway cutting...

Rural paint treatment in areas of natural beauty...
Vehicular protection to the canal with safety footpath behind...

High containment parapet with transitions and terminals...

Permanent varioguard to act as lane control and prevent overloading bridge...
View All
Our qualifications and accreditations